Mikoshi is the feature of Geisai! Mikoshis ,which students make during the summer, have much power and punch, and liven up Geisai. Let's see how such mikoshis are produced.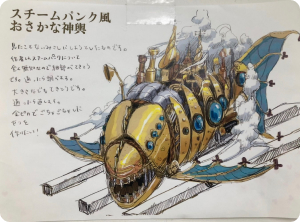 ①Deciding the design 

Students collect ideas from each department and take the vote
to choose one design among them. After the decision, the design
is polished again and again, and confirmed by mikoshi-team.
 
 ●
 ●
 ●
 ●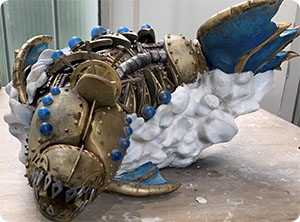 ②Making the maquette

Maquette is a small model of a mikoshi. Mikoshi-team discuss
details of that with making a "temporary maquette" first, and a
completed "regular maquette" will be exhibited. Making maquettes
is finished from May until the start of producing mikoshi.

 ●
 ●
 ●
 ●
③Putting up a tent

On the first day of the summer vacation, students have an event
"kura-dashi " (this means warehouse-carrying-out), in that they
carry steel frames or blue tarps out of a warehouse, and they
put up a tent, where they will make a mikoshi. That protects
the mikoshi from wind and rain.

 ●
 ●
 ●
 ●
④Cutting Blocks of foaming polystyrene

After putting up a core-pole, students pile blocks of foaming
polystyrene, and cut them roughly with heating wire. They discuss
the procedure and, viewing the mass from all angles and comparing
with the shape of maquette, do this process.

 ●
 ●
 ●
 ●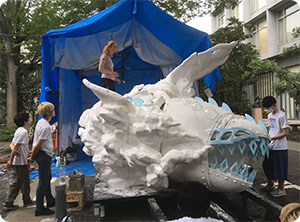 ⑤Perfecting the shape

Finishing cutting the mass, students carve it with saws or kitchen knives.
This process needs their keeping in mind the mikoshi 's shape as a whole.
After that, with filing or polishing the surface, they perfect details.

 ●
 ●
 ●
 ●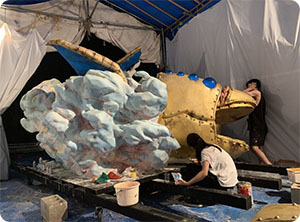 ⑥Painting

They color the completed shape. This process follows procedures
as, undercoating at first, overcoating, and putting the finish with spray,
so it should be planned sufficiently. Much paint and many brushes are used.

 ●
 ●
 ●
 ●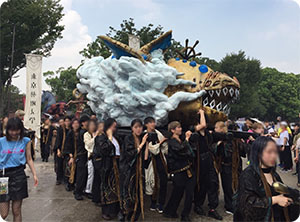 ⑦ Perfecting production

At last, the mikoshi is completed! If someone plans to get on it
during the actual performance, they step on it actually and check
the safety. On the first day of Geisai, the mikoshi is carried by most of
the team on their shoulders, and unveiled at Ueno Park!