心の中から出た生き物 "A Creature from the Mind"
Kokoro no naka kara deta ikimono " A creature from the Mind"
岡田佳祐 Keisuke Okada
制作年:2020 
使用素材:Oil on Canvas, 116.7cm×91cm(F50 号)
かつて馬は魂を運ぶと考えられていたが、この生き物はその背中で光を運ぶ。
希望や思いやり、ねぎらいと一緒に。
Horses were once thought to carry the soul, but this creature carries the light on its back.
制作年:2020 
使用素材:
Coloured paper,Balloon
風船が中空を漂う状態とは(重力+ヘリウムの密度=空気の密度)だ。
絵画が中空を漂う状態とは絵画の密度とそれを囲む空間の密度が等しい状態である。(重力+絵画の密度=空間の密度)
絵画は空間である。
The condition of a balloon's floating in the air is the same as (gravity plus helium density equals air density).
The condition of a painting's floating in the air is the same as that painting density equals the surrounding space.
(gravity plus painting density equals space density)
Painting is space.
制作年:2020 
使用素材:
Mixed media
━━━━━━。
━━が━と供に押し寄せる。走り出した━━━━━
拡がる━━━━━━━━
砂利が擦れる音がして、自分を確認できた。
━━━━━━。
━━is rushing with ━.
━━━━━began to run.
━━━━━━━━is spreading.
Hearing gravels rubbed, I could confirm myself.
自分の慣れ親しんだ部屋は自分自身といえるだろう。
私は部屋だ。
I can call my room which has been familiar to me "myself". I am the room.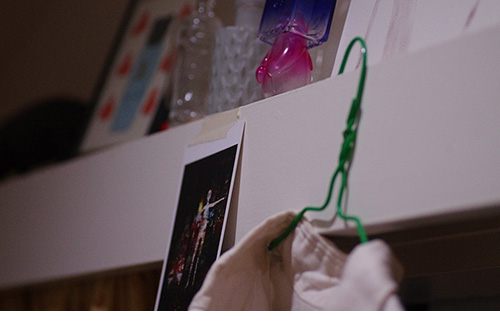 (Untitled)
東京芸術大学・大学院の現役学生・卒業生(匿名) 
Students and graduates(anonymous) of TUA・POSTGRADUATE SCHOOL
制作年:2020 
使用素材:
テキスト、パフォーマンス
2020 

Text, performance



藝大生に匿名で聞いた、世間の知らない「とんでもない」大学の日常を暴きます。今だからこそ言えること、今だからこそ世間に伝えたい言葉たちを集め、藝祭当日、SNS と構内からのライブ配信で併せて発表します。
We reveal "astonishing" university life which most people don't know, asked from TUA students anonymously.
Collecting the words we can say now and the words we want to tell everyone now, we are going to release them through SNS and live stream from the premises, on the days of Geisai.