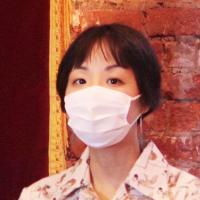 ARARAGI Nana
Manga artist, illustrator, UI/UX designer
M.F.A., Tokyo University of the Arts
B.F.A., Design, Tokyo University of the Arts.
The graduation work "Suicide Savers" received the N award from the Design Department, and was released as a series via LINE Manga in 2018.
Following its completion, original works of manga have been released on Twitter and Pixiv. The comic-essay "The story of passing the Tokyo University of Arts entrance exam" is also being released on a personal account.The work has received attention from prospective students.The work has also been awarded among 6000 works submitted for the "Cakes Creator Contest 2020" on the website "note".Currently a new release is under preparation.


Link to the home page and social media
What was your reason for wanting to become a manga artist?
 I started creating manga before I entered elementary school.
My older brother was already making manga, and I was just trying to imitate how he was drawing. It was a lot of fun, and I would draw manga all the time, even during recess, and I naturally came to believe that I wanted to be a manga artist.
What do you keep in mind when you are working on your artwork?
 Personally, "fun" is the most important thing, so I always try to keep it fun.
If readers get bored and stop reading in the middle of a story, I won't be able to get people to even read what I wanted to say.

 The other thing I keep in mind is that if I am taking my readers' time, I hope they get something out of it, and think something about the subject I want to convey.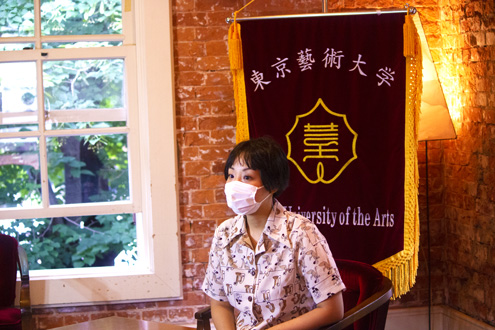 ARARAGI Nana
I heard that your father is also a potter (he studied at the Crafts department of the same university), but did that influence you?
 It did. My father was always making art at home, so I was very close to the idea of "creating". Also, knowing that I could make a living doing what I wanted to do like my father did, without choosing to work for a company, I think that had a positive influence on me.

 I'm jealous of you. Personally I keep being asked to get a job at home, and that can be stressful...

 I can see that. But in a way, you have to find your own way, so that can be a bit difficult.

 Were you exposed to crafts when you were a child?

 Yes, I worked with crafts. I somehow like the works I made when I was little, even though they're ugly (laughs).
I usually work with digital media, so it's fun to do some analog stuff like clay sometimes.
Are there any artists, manga artists or designers who have influenced you?
 When it comes to manga, I'd have to say Fujiko F. Fujio. I like the manga Doraemon, and I was very impressed with his ability to make me laugh, cry, and touch my heart even as a child, or create stories elegantly.

 When it comes to writers, there was a time when I was into Charles Chaplin. His works are like a comedy born out of a tragic drama, and the ending is very close to a bad ending.
I think it's typical for human beings to lose something in their lives, and then become positive again, and I feel his films have that sort of human touch.
 When I make a work, I also want it to have some sort of lack, but one that allows a lay of light to be seen through it.
You've been writing "The story of passing the Tokyo University of Arts entrance exam" on Twitter since April of last year, but why did you start doing this now?
 After graduating from TUA, I felt strange how the media coverage of its students was that "they are mostly eccentricities", or "they are mostly geniuses". I wanted people to know that the students all worked hard to get into a university, and I wanted people to see the life-size scenes of students facing the entrance examinations, as if they were in training.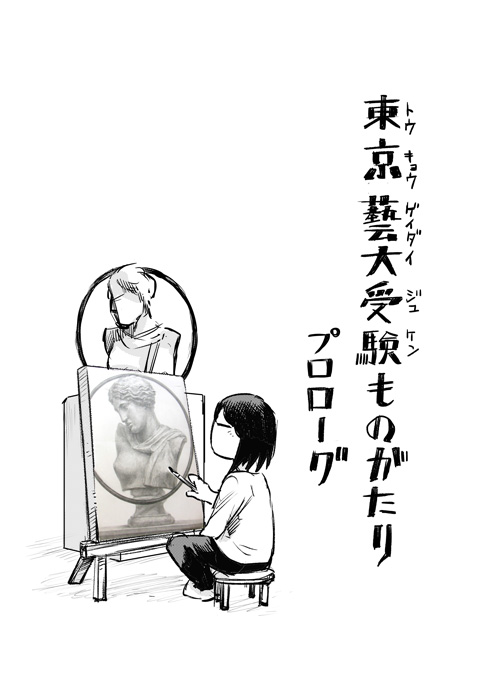 The story of passing the Tokyo University of Arts entrance exam
A nonfiction depiction of TUA admissions.

 I definitely feel that we are being covered in the media in a rather peculiar way.

 I agree. I don't think it's a good trend. These students are the future of the art industry, and it's no laughing matter.

 I really sympathized with a lot of what I read.

 I'm sure there's many things the students who took the exams many times can recall (laughs).
 I received many words of encouragement, such as "I can associate with your work," or "I'm glad I learned about this new world" and so on, and I'm glad I made it.

 It's amazing that you have the courage to show your own painful experiences, or rather, to express them.

 I think the power of negativity lives on in my work, and in fact I think it's a strength.
 To be honest, since I draw memories of hardships when I was going through university entrance examinations, sometimes it gets tough and I have to stop, but I'm not very good at quitting in the middle of something.
 More than anything, I'm really grateful for my readers.

 I teach at a prep school, and I feel that the first and second years in high school seem rather laid back, while from the final third year the competitive environment of real-life examination becomes real. I interviewed you because I wanted this to be more widely known.

 I receive a lot of questions on places like Twitter from people who say they can't motivate themselves, but I always think, you just have to! In a way, you must not think exam preps are fun.
 Also, for those who have gone from being a TUA student to becoming a manga artist, I wonder why they don't draw about their experiences of exams and university. For outside people, it's a very interesting and entertaining world.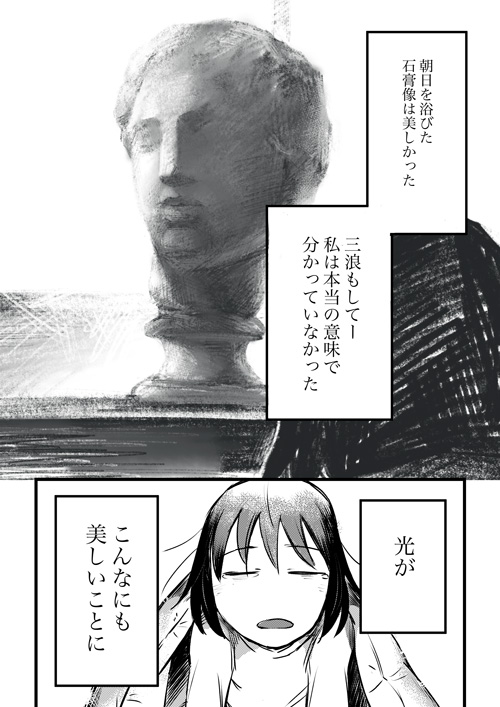 Excerpt from Chapter 49.
Is there anything you pay attention to when you create a manga story?
 I only have 4 pages for the exam manga that I published on Twitter, so I try to make sure I have a clear introduction, twist, and conclusion, and I try to include some kind of art-related story in each episode. I also make sure the dialogue goes smooth and easy to read by saying them out loud.  I also try not to draw too much, so that it's easily read even on a small screen.

 What software do you use to draw?

 I use CLIPSTUDIO on my iPad.
 Whenever I draw comics, I make a deadline for myself, and even if I'm tired, I'll get to work on it. If I try to start from zero and finish it in one go, I won't be able to motivate myself.
Are there any genres you'd like to work with in the future?
 I don't have a particular genre in mind, but if there's something I see as an issue or a message I want to convey, I want to base my works around it.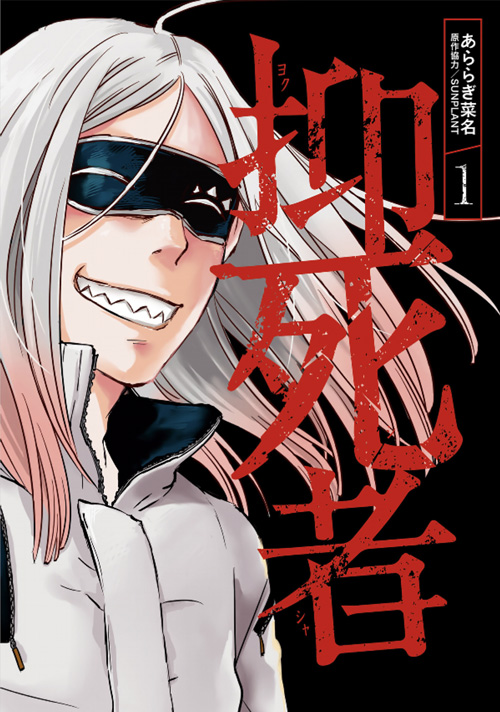 Suicide Savers
A story of "Suicide Savers" who try to save people from killing themselves. Entire volume available from KADOKAWA comics.
When you applied for TUA, why did you choose the Design Department?
 Compared to other departments, I felt the emphasis was more on what was interesting and coming up with new ideas, and was more in line with what I wanted to do.

 The Design Department also emphasizes written tests too, so I'm guessing it was tough?

 I assume many people are not aware of that.
 Studying is a gradual process, so it's good if you find it interesting, but if you don't do anything, you won't get far (laughs).
 I failed in the first year with the written test and the second year in the practical test, and I learned the difficulty of keeping good balance.

 Our year (the 2019 school year), there were 14.8 applicants for each one accepted student. What was the number for your year?

 Maybe around 16... There were 900 to 1000 applicants in total applying for the Design Department, and in the end it was 45 who entered.
 I've heard there's less applicants now?

 Yes that's true, they're divided exams between plaster and composition with 300 applicants each.

 600!? Wow that's so much less. My year there were students going into their sixth year applying, and later years someone entering after an eighth year, and from that I thought the number of exams you retook doesn't matter in a good school.
So you entered TUA after your third try, but did that experience benefit you in any way?
 I was freelancing after graduation and didn't have a model to follow, so I did research, got jobs, and did the scheduling, all on my own.... I think the things I learned during those three years of exam preparation were really useful.  I don't recommend it because it's really hard to go through multiple rounds (laughs).
I heard that you worked a lot of part-time jobs when you were preparing for exams, but are there any jobs you recommend for people in that situation?
 I believe that every part-time job always has its advantages, and nothing is a waste of time.  For example, when I was working part-time at a grocery store, I got to look at the fruits and vegetables that were in good shape, and feel close to them. If you can love a motif, it's a win.  In design work, you can't design a product if you don't know about it and have an attachment to it first, so I think the challenges I faced during my entrance exams will come in handy later on.
What kind of things did you make when you were a student?
 There was a lot of manga and paper-based media. I found it interesting that a timeline could be created through sheets of paper. I tried to focus more on design, so I made some booklets, and that was fun too.
How long did it take you to decide on your own direction while you were in school?
 In school, the Design Department offered me many opportunities to work, and as I became actively engaged in that kind of work, my skills were getting better and better, and I started to get the feel that I could make design a career.
 With regard to manga, I presented a work for my graduation show which was based on the time I became mentally ill, and I received an award for that from the Design Department. That made me happy, and made me realize that I was the kind of person who was suited at communicating something.
 I also love design, so I've been wearing two hats.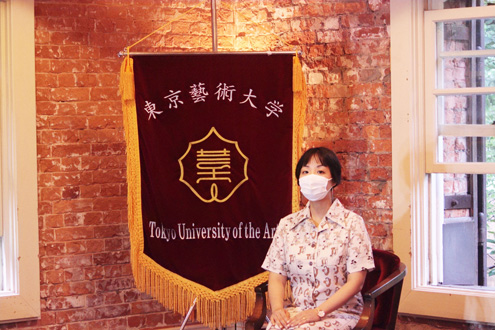 ARARAGI Nana
When did you decide to go on to graduate school?
 I went to graduate school because I wasn't satisfied with the graduation work in my senior year, and I wanted to create and study more.

 I also recommended the students to have more interaction with people from other departments, and with senior and junior students. It is very encouraging to see friends and younger students from my school days working in the field. It may not be easy to do so with the COVID-19 situation now, but I would recommend you to not stay within your own shell and expand your interactions outside of TUA.
Would you support your son or daughter if they told you they wanted to apply to TUA? Also, I've heard you worked to pay expenses yourself, but would you support them financially?
 That's a difficult question... Of course I want to support them. But I do want to tell them it's going to be hard, and personally I had a hard time dealing with my finances, so I don't want them to have to deal with that.
Could you please give a message to the students of TUA?
 What I felt at the university is why there were so many people with so little confidence. I'm thinking a lot of them face a sort of competition in a tight space, and they all get judged on their work, creating a negative spiral. But I knew by heart that we all were skilled, and I hope that while in school, we can learn to appreciate each other and what we are good at.

 That's striking to me, all the people around me are amazing and I was losing my confidence....

 I see, but it doesn't really matter after you graduate. Everyone has baseline skills, so I think the strength is that anything can be done by anyone.

 Thank you for the time today.

Interviewer : Minako Yamaguchi
Maaya Kawamura
Photographer : Rana Ozawa
Constructor : Maaya Kawamura